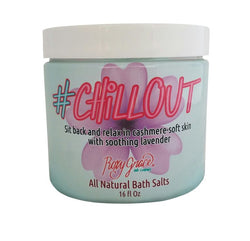 The universally adored practice of slipping into warm water after a rough day is almost like magic—afterwards, your body and muscles can feel more relaxed, and the anxious thoughts that were running through your head all day have suddenly gone away.

 
Long day? Well, we've got just the fix for you!
Chillout Bath Salts will transform any bath into a pool of pure heaven.
These luxurious bath salts are infused with all-natural lavender essential oils, perfect for soothing sensitive skin and, more importantly, your mind, body, and soul.
Plus, these salts are made with a special blend of all-natural Himalayan, Dead Sea, and Epsom salts, perfect for naturally easing aches and pains and calming troubled skin. Simply drop a handful into your next bath to unwind into a calm new you. Paraben and sulfate free.Weight: 1 Pound