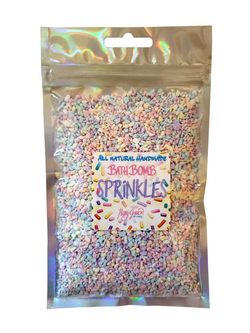 Top off your "YOU" time with these sweet sprinkles!
As colorful, playful, and full of whimsy as real sprinkles, our Bath Bomb Sprinkles are the perfect finishing touch to a relaxing soak.
Made with all natural ingredients and formulated with a mix of organic fruit oils such as blueberry, tropical, cherry, lemon and more, our sprinkles are a deliciously indulgent way to give yourself a little T.L.C. whenever you feel like it! Every pouch contains a random sampling of colors and scents, making each bath you add these rainbow sprinkles to unique and special- just like you!
So go ahead and treat yourself to something sweet with Roxy Grace's Bath Bomb Sprinkles, you deserve it!
Bath Bomb Sprinkles 4 Ounces