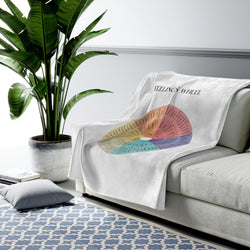 Mental Health Professionals can utilize this blanket to create a cozy and warm atmosphere.
This blanket is SO soft and can be a great tool as well. The Feelings Wheel can help people recognize and communicate what they are feeling. The inner circle is labeled with names of primary feelings. The outer rings contain names of secondary feelings related to the primary ones. Use the Feelings Wheel to help your clients describe how they're feeling.
50x60"
|   | 50" × 60" |
| --- | --- |
| Width, cm | 127.00 |
| Height, cm | 152.40 |
 
Please note: In most of their senses, there is no difference between skeptic and sceptic. Skeptic is the preferred spelling in American and Canadian English, and sceptic is preferred in the main varieties of English from outside North America. This extends to all derivatives. This is not a typo- it is the English version of the word. Thank you.