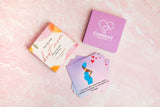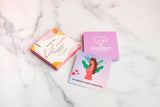 Pregnancy isn't just about the baby – it's about you too, and making sure you're healthy and happy.
Self Care is important to take time for your mind and body. It helps to set boundaries for yourself so you don't get overwhelmed.
It's a good idea to prioritize rest and relaxation.
This set of 30 affirmation cards features hand lettered quotes to propel, support, and uplift.
This decked is packed with research-based statements to help you manage stress, nurture your values and goals, and take steps toward concrete change.
This affirmation deck would make the perfect gift for a loved one or a thoughtful way to practice self-care.