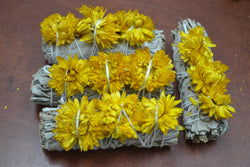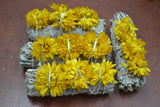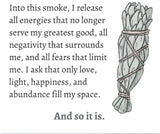 Sage is often used to clear negativity and cultivate a space of peace. This can be useful with new purchases, gifts, or healing from heavy life transitions (grief, breakups, etc.). 
If you have any concern with negative history or energy attached to a new or unfamiliar object, sage may help bring peace of mind.
The most-used types of sage have antimicrobial properties.
This means they keep infectious bacteria, viruses, and fungi at bay.
These are the finest harvest from Southern California. They are wrapped with yellow strawflower.
A set of 4 bundles. The size is 4 1/2" length.