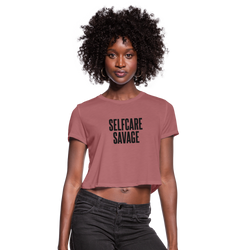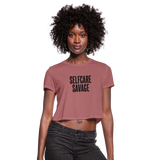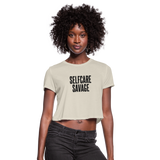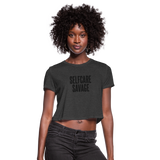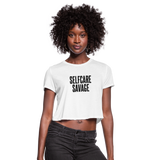 Self-Care Sa-vage
/ˌselfˈker/.   /ˈsavij/
A SelfCare Savage is Anyone who fiercely and consistently prioritizes their need for balance, peace and self love through action.
Self-care is ANY activity that we do deliberately in order to take care of our mental, emotional, and physical health.
Show off your curves with this trendy crop top that's just flirty enough. Ultra-lightweight, super comfy and breezy, this is sure to be an everyday favorite.
Brand: Bella + Canvas
65% polyester, 35% viscose | Lightweight fabric (3.7 oz)
Flowy fit and modest crop for comfort
Side seamed for durability
Flattering tailored sleeve
Imported product, printed & processed in the USA
slimmer fit
| | A | B | C |
| --- | --- | --- | --- |
| S | 18.35 in | 18.35 in | 6.50 in |
| M | 19.09 in | 19.84 in | 6.50 in |
| L | 19.84 in | 21.85 in | 6.97 in |
| XL | 20.59 in | 23.86 in | 7.24 in |
| 2XL | 21.34 in | 25.87 in | 7.48 in |